Raw London's #EscapeRobot, produced for War Child UK, has been named Major Social Media Campaign at The Drum's Major Players 2018.
The Majors, run in association with The Drum, celebrates the best in creative, digital and tech. The prestigious panel of over 25 judges included senior marketers such as Nishma Robb, Marketing Director at Google, Kat Hahn, Creative Strategist at Facebook & Instagram, and Scott Allen, CMO at Microsoft.
The judging process valued innovative and results-driven work above all else, stating; "We are looking for a campaign that shows creative thought and made an impact across multiple social platforms. It could be one that created lots of buzz online or a well thought out strategy that performed well with engagement. Candidates will need to demonstrate innovations, creativity, originality and examples of high engagement."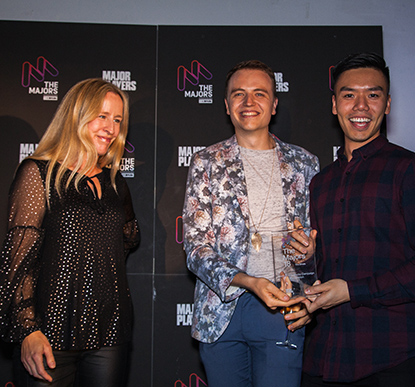 Charlotte Harris, Marketing Director at Raw London, said, "It's brilliant to have won this award. It recognises how we developed a clear strategy for the campaign and produced direct and significant outcomes for the charity. I'm so happy for the team over at War Child UK!"
The Majors is made up of 15 categories covering innovation, brand, marketing and PR with winners including Netflix, C Space and Perlego. The awards party took place at Hoxton Arches on Thursday 18th October with an evening of cocktails, canapés and surprise entertainment.
The winning project, #EscapeRobot for War Child UK, was released earlier this year to highlight the effects of war on childhood mental health. It recently won Gold at Cannes Corporate Media & TV Awards 2018, as well as beating Volkswagen to The People's Choice at The Lovie Awards 2018. The campaign is also a finalist in the upcoming The Drum Content Awards 2018 and EVCOM Industry Awards 2018.