Raw partnered with The Loss Foundation to make a powerful and unique 360 virtual reality film, which would help them change perceptions about the taboo of bereavement.
It's already been used at their annual fundraising event, Stand Up for The Loss Foundation, where it was received incredibly well: Your 360 film is wonderful. Not only is it moving, it is completely mesmerising!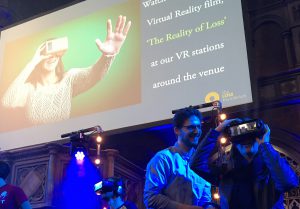 The Loss Foundation has also been invited to present the experience at a bereavement conference in Lisbon and are currently writing a book chapter about how the film is helping them change perceptions about the bereaved.
The project was our first foray into narrative VR for a charity and we're really happy that we've been able to use virtual reality to have such a big impact for a small charity who haven't traditionally been on people's radars. The film tells the story of James and Catherine in a split-screen VR format. One side shows the couple's romance and happy lives together, whilst the other shows the devastating impact Catherine's death had on James' life and the refuge he found in The Loss Foundation's support groups.
Shooting Partners joined forces with us and supplied a Nokia Ozo camera – the world's first professional virtual reality camera – which allowed us to view the footage in VR as we shot it and made sure there were no surprises when we came to post. Bleach Productions also partnered with us, delivering a 3D spatial sound design which was crucial in helping people differentiate between the two sides of the experience.