While we continue to recover from the festive season, it seems a good time to stop and reflect on the best content from 2019 – and, more specifically, the Christmas ads that made a lasting impression. 
As ad creative nerds, Christmas is our favourite season. With big competition and even bigger advertising budgets, it's a playground ripe for judging – so it's lucky we're an opinionated bunch. This year I decided to get methodical about tracking the team's expert verdicts, using a rigorous if not entirely scientific process. And the results are in!
Methodological approach
To gather my data, I hosted a screening of 12 leading brands' 2019 Christmas offerings, and asked my colleagues to rate each spot across three criteria:
Originality

–

defined as a stand-out value. Does the idea feel fresh and different?

Chrimbo Vibes

–

defined as a seasonal X-factor. Does it inspire warmth?

Totes Emosh?

–

defined as an emotional response. Does it provoke strong positive and / or hilarious emotions? 
As a scene-setting exercise, we organised a Christmas sandwich blind tasting, featuring 14 sandwiches from leading lunch brands. This put our survey participants into a suitably lulled and jolly mood. Marks were given out of a maximum of 10 points. Nine people attended the screening, so we had a sizable sample of participants.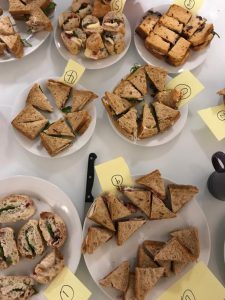 Fig. 1a: Team sandwich taste-off
Following the screening, and the passionate debates that ensued, I calculated the average score for each criteria, and added these together to get a total average score. Finally, a very fun spreadsheet gave me an overall average for each ad.
A note on sampling
The ad sample was selected by searching 'Christmas ad 2019…' into YouTube on the same day the John Lewis ad was released, and selecting the top ads by recognisable brands. By no means an exhaustive selection but it did the trick.
Results
The selected ads produced strong feelings on both ends of the spectrum. Even up against John Lewis & Partners' colossal Edgar the Dragon, McDonald's became the surprise front runner, with their #ReindeerReady campaign serving up the happiest meal.
However it was IKEA's Silence the Critics that made the biggest impression on the day. The hilarious singing characters and expertly performed lyrics took the team by charm, running away with originality and emotional points, losing out only on the Christmas vibe scale.
Sainsbury's Nicholas the Sweep, KFC's Animated Vignettes and Aldi's Kevin the Carrot Returns receive honourable mentions for their very unique submissions. Argos' The Book of Dreams divided the room, provoking very strong emotional reactions both ways. The full list of results are here:
| | | |
| --- | --- | --- |
| Table 1 | Contenders | AVG. SCORE |
| | M&S – Go Jumpers for Christmas | 4 |
| | Argos – The Book of Dreams | 5.82 |
| WINNER | McDonald's – #ReindeerReady | 7.322 |
| HON. MENTION | Sainsbury's – Nicholas the Sweep | 6.325 |
| | Tesco – #DeliveringChristmas | 4.3 |
| | Boots – Introducing Bootiques | 4.3 |
| | WWF – Adopt a Better Future | 3.237 |
| 2ND PLACE | John Lewis – Edgar the Dragon | 7.313 |
| 3RD PLACE | IKEA – Silence the Critics | 7.075 |
| | Lidl – A Christmas You Can Believe In | 2.833 |
| HON. MENTION | KFC – Animated Vignettes | 6.888 |
| HON. MENTION | Aldi – Kevin Carrot Returns | 6.244 |
Thematic analysis
A theme of 'back in time / fantasy' was noted to have been embraced by the leading retailer (and defending champion) and two major supermarkets, causing us to wonder whether these brands' creatives teams might have a leakage / sabotage problem (see also: Sainsbury's unfortunate fate of having produced a budget-version of John Lewis's brand film for their 2018 Christmas ad).
Other themes included 'funky / performance', embodied by M&S and Argos; and 'funny / weird', a route taken by Boots, KFC and IKEA, the latter two of which scored highly with the audience. Two leading brands – Aldi (really squeezing the value out of Kevin the Carrot in his FOURTH Christmas outing!) and McDonald's – stuck to what can only be called a 'classic / cute' theme and this strategy, while safe, paid off for them in the scoring.
In conclusion
After last year's return to form for John Lewis and their Elton John classic, Edgar the Dragon was a brilliant effort and no doubt captured the hearts and minds of many. But perhaps it's a little overthought? McDonalds' #ReindeerReady shows that simplicity is key in effective storytelling, especially when the goal is to resonate with the widest of audiences.