Our most recent Relay event took place online on Thursday 20 August 2020, with Fundraising Strategist Chloë Amstein and a group of expert panelists from British Red Cross, Médecins Sans Frontières and Parkinson's UK. 
We discussed the challenges of producing original creative, first reflecting on the past 6 months in emergency coronavirus comms and then looking ahead to opportunities to cut-through this Christmas.
Below we've shared some highlights from the discussion, but don't miss out! Some information has not been included below due to Chatham House rules so watch the webinar in its entirety below. 
A massive thank you to our panelists:
Chloë Amstein Fundraising Strategist
Ed Hardy Creative Lead, Raw London
Pally McAlley Senior Strategist (Creative Planning & Development) at British Red Cross
James Kliffen Head of Fundraising at Médecins Sans Frontières
Dee Russell Content Lead at Parkinson's UK
Opportunities, challenges and inspiration for getting cut-through this Christmas
Chloë Amstein kicked off with an eye-watering reminder that there are just 127 days until Christmas (eek!), followed by some invaluable advice for getting the most from your 2020 Christmas campaign. This was followed by our very own Ed Hardy, Creative Lead at Raw London, who shared his view on what makes a robust and fruitful creative process, and shared some of his own ad land favourites from the past 6 months.
Addressing a 'sea of sameness' across the third sector
In a live poll taken during the webinar, 76% of viewers agreed that creative and messaging was similar across third sector coronavirus comms. This was broadly reflected in our panelists discussion, though interestingly it was viewed as not just a problem for charities. Many brands (especially supermarkets) have contributed to and even perpetuated the overuse of phrases like 'unprecedented' and 'we're all in this together' with similar ads and sentiments that seem to move in on charity territory and amplify the problem.  
However it's important to not be too critical, and recognise that this has been a hugely challenging time for everyone. Teams producing content during lockdown were working in unusual and high pressure situations, with restrictions on production and an urgent focus on emergency appeals. Many charities did an amazing job in turning around cross-channel appeals in no time at all – but panelists agree that now we have time to reflect, learn and think ahead to Christmas.
Why aren't charities taking greater creative risks? What are the barriers?
Typically in a brand and marketing environment, one of the biggest challenges is the different performance measures across teams. When emergency appeals launch, for example, the fundraising team has a huge financial target on their shoulders, whereas brand and marketing often have more room for creativity as they work to build brand awareness and affiliation. This can create a tension between fundraising and comms, but, in the best cases, should create a healthy mutual respect and an appreciation that these targets can work in harmony. 
What are the risks of
not
pushing creative boundaries?
According to CAF, voluntary giving has remained pretty much stable at about £10 billion per annum for over 10 years. For Chloe, this could mean there are funds that charities just aren't accessing. There are of course many factors, but the fact that the majority of giving has been in regular giving and cash, in response to very similar messages and propositions, it's fair to assume we are just stealing market share from one another, rather than actually inspiring new audiences to give and growing the size market. Essentially, the lack of creativity could be quashing a huge opportunity for the sector – so how do we evolve what we're doing? 
How can charities make more of the Christmas opportunity?
For the panel, one of the fundamental problems with Christmas campaigns is a sense of 'short term-ism', focusing on one Christmas campaign at a time and re-doing it each year. For a more strategic approach, consider thinking longer-term and create a consistent creative platform that you can reinvent year after year. Crisis at Christmas is a brilliant example of a charity campaign that remains consistent but refreshed each year. For Chloe, there is huge value and meaning in this – generating a 'giving ritual' or a habit at Christmas. We'd agree – our insight series on behavioural science might spark some ideas in this area.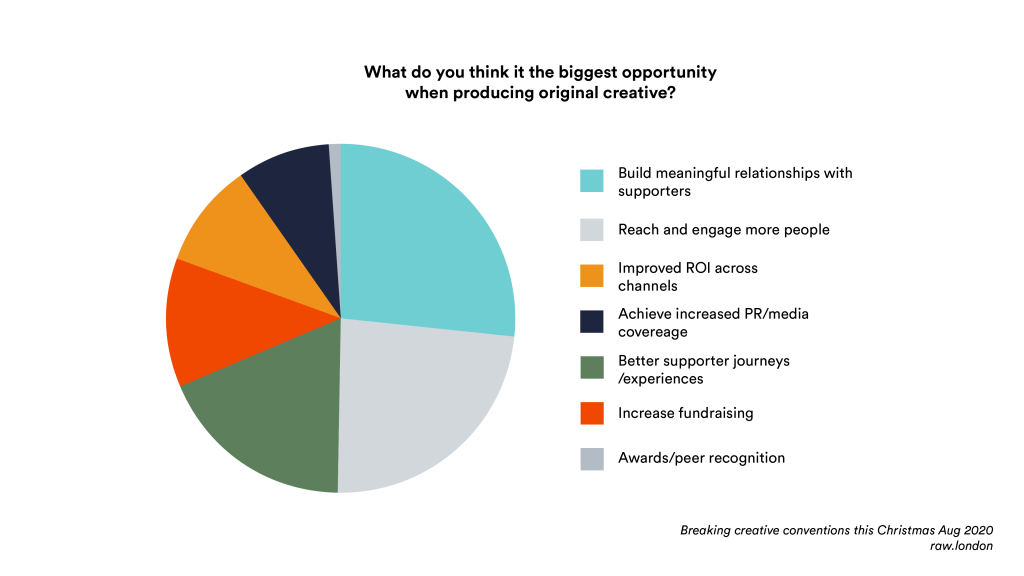 What are some of the success drivers for nurturing really good creative?
Time and process are two of the biggest influences on great creative. Though it is possible to make great things with a short turnaround, we've consistently seen a better result when there is enough time to properly assess, break and evolve ideas. On top of that, it allows for greater collaboration between agencies, clients and stakeholders who can offer lots of different very perspectives and enrich the final result.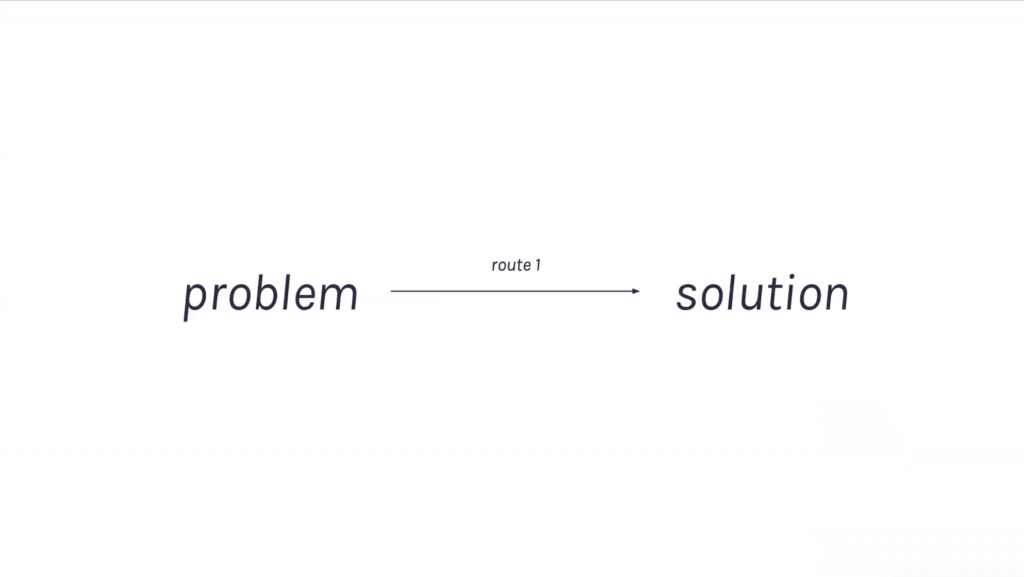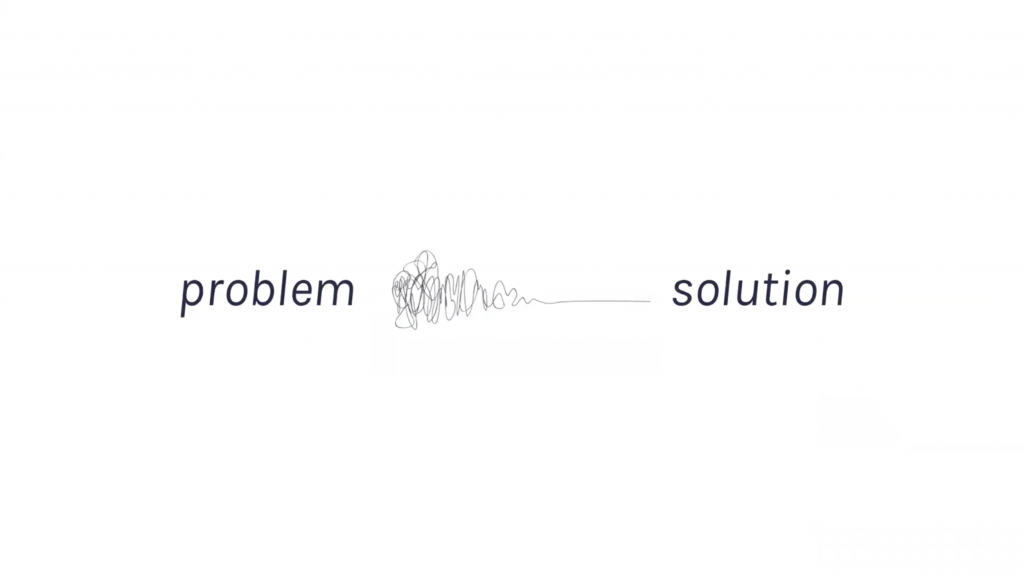 Another thing you can do is simply ask yourself – when was the last time you felt uncomfortable? Parkinson's UK has evolved their process to work more collaboratively, and part of that is encouraging creative partners, agencies or internal teams to challenge comfort zones and push boundaries. To put this into practice, try incorporating a tissue session into your process. Tissue meetings usually happen after the brief has been discussed and before the final pitch, to give agencies an opportunity to check in with you, break down silos, and test whether they can take the creative further or need to rein it in before the final pitch. It's a mutually beneficial experience and brings both parties closer together in the ideation of your campaigns. 
How important is audience insight?
Charities always have an ambition to do more audience research and our advice is do it! It always pays dividends. If you're worried about budget, there is always an approach you can take – talk to us about this if you'd like some advice. 
Médecins Sans Frontières is a brilliant example of how being audience-centric can drive consistent and meaningful results. Get in a room with the people that support you and find out what drives them, what inspires them, what they want/need from you – and base everything you do on that. Crucially, if it looks like what you're already doing, then don't stop doing it just for the sake of being different!
How important is a proposition to the final creative?
Propositions are a huge part of the conversation when it comes to creativity, and there's a lot to cover – tone of voice, competition, uniqueness, integration, audience. But there's one thing that's clear: finding your own voice is so important, and will be especially true this year as brands will no doubt continue hone in on social good and community messaging. 
Any tips for thinking about propositions? Where do you start?
Propositions are difficult to develop. It has to be true to you and the people you serve, while speak your audience's language. They are by their nature reductive – and that's the key. Charities often try to shoehorn lots of different messages into their propositions – but being absolutely single-minded is worth it – and really makes the creative process much more straight-forward.
General advice – look really closely at your brand, its values and core principles. What are you here to do? What do you stand for? What problems are you solving? If you find your niche, and reflect it, you can't go far wrong.
How do you turn a proposition into compelling storytelling?
When we're coming up with creative concepts at Raw London, so often they are borne out of service providers and people on the frontline who (due to their inherent humble nature) often take their transformative work in their stride. This means we're able to offer an external perspective and a clear lens to uncover nuggets of gold – like our recent DRTV ad for British Red Cross which is based entirely on one phone call to their support line. 
It also has a lot to do with integration. It's not just about the TV campaign, but about every piece of interaction with you – a unified, compelling message. For many charities, the majority of supporters give online due to a cumulative impact over time. So, while developing your proposition into a creative platform that works across teams, channels and audiences brings a whole host of challenges, strong creative concepts will translate and be flexible enough to adapt. You might have completely flex the language from one audience to another, but the message audiences take away should fundamentally be the same.
What are you waiting for? Get involved!
Thanks so much for attending and a huge thanks again to our panelists. Don't forget you can watch the webinar in full here.
Have an idea for the next event or want to get involved? Drop us a line at hello@raw.london. For more information or to check out past events, visit our Relay hub.