Raw London has worked closely with RCGP to develop a game-changing interactive video platform to support aspiring medics. The free online platform, Observe GP, is designed as an alternative to work experience to help young people aged 16 or over gain valuable insights required for their application to study medicine. 
This is revolutionary for many young medics who, in the past, have struggled to gain work experience in healthcare because of a lack of family connections or due to an inability to reach placements when living in rural or remote areas of the UK. All aspiring medics are required to gain insights into the realities of medicine, and demonstrate this knowledge in their medical school application and interview. In-person work experience has dominated for a long time, despite the inequities in accessing placements. Online alternatives can, in many ways, go further than traditional placements and now Observe GP is available to anyone, anywhere.
Targets exceeded in the first month
In the first 2 months alone, the platform exceeded the target of 2,000 registrations by a massive 300%, with 8,000 registered by the end of June 2020. We now hope to reach 10,000 aspiring medics in the first six months, reaching roughly 50% of the UCAS end of cycle figures for 2020 in each UK nation. 
Dr Devina Maru, current GP Trainee, said, "I wish that Observe GP had existed when I was applying to medical school. Being the first in my family to apply to medical school and having difficulty organising work experience with no medical contacts was challenging, innovations like this are long overdue!."
The platform has also been a lifeline for connecting with people during national lockdown, when in-person work experience has been impossible. In fact, it features prominently in Medical Schools Council's Guidance on relevant experience when applying to medical school in the time of COVID-19, and was recommended to viewers of their work experience webinar in early June 2020.
Michelle, project lead at RCGP, said; "We are overjoyed with the response to Observe GP, and so pleased we have been able to provide this resource, especially at this time. Raw London helped us look beyond the basic formats and we have created something which provides information and delivery that in-person work experience cannot do. Our aim is to level the playing field, so that those aspiring medics who gain places at medical school come from diverse backgrounds and can offer a wide scope of instincts, interpretations and experiences to innovate and contribute to our healthcare of the future."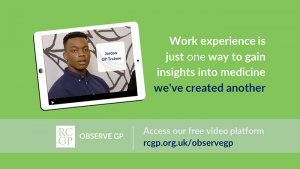 Delivering the project in-house
Observe GP houses a series of pre-recorded videos, with the user controlling the journey through them, completing activities and learning key terminology as it appears on screen. The videos showcase the roles of various team members in general practice, including the GP and the wider primary care team.
We worked closely with RCGP to produce the project in-house – from initial consultation, scoping and scenario planning, through to casting, scripting, filming, production, testing and delivery. We then added interactive functionality such as quizzes, multiple choice questions, learning notes and a dynamic glossary. 
Ryan Wilkins, Founder & CEO at Raw London, said, "It's incredible that Observe GP is already having such a life-changing influence on young people and changing their perceptions on what being a general practice is all about. We're really proud to have worked so closely with RCGP from start to finish to create something that will have a lasting impact."
If you're an aspiring medic, you can register for Observe GP here. Teachers, careers advisers and outreach staff in universities and social enterprises are also encouraged to register here. 
RCGP and Raw London would like to dedicate this platform to all those working in general practice and the wider NHS family, who have risked their lives to keep us safe during this crisis.  
Do you have a similar project in mind? 
If you're looking to launch a new training, e-learning or work experience platform, or update an existing one, we can help. Get in touch with Ryan at ryan@raw.london for more information.