We are thrilled to have placed 15th in Televisual's Top 50 Corporate Production Companies 2019, as well as 7th in the Peer Poll Top 10.
The Televisual's Top 50 ranks the best corporate production companies in the UK and asks them questions about how their businesses have been changing over the past 12 months and what the coming challenges will be. For a place in the top 50, companies are ranked across criteria including size, reputation among peers and haul of medals at the Evcom Industry Awards, NY Festivals Internal Film and Video and Cannes Corporate Media & TV Awards.
This is the third year we have been listed, climbing a massive 21 places from 36th to 15th in 2018. This year, we also climbed 3 places in the Peer Poll Top 10, with voters stating we "are best at charity production" and highlighting our "quality of output and work in the Third Sector".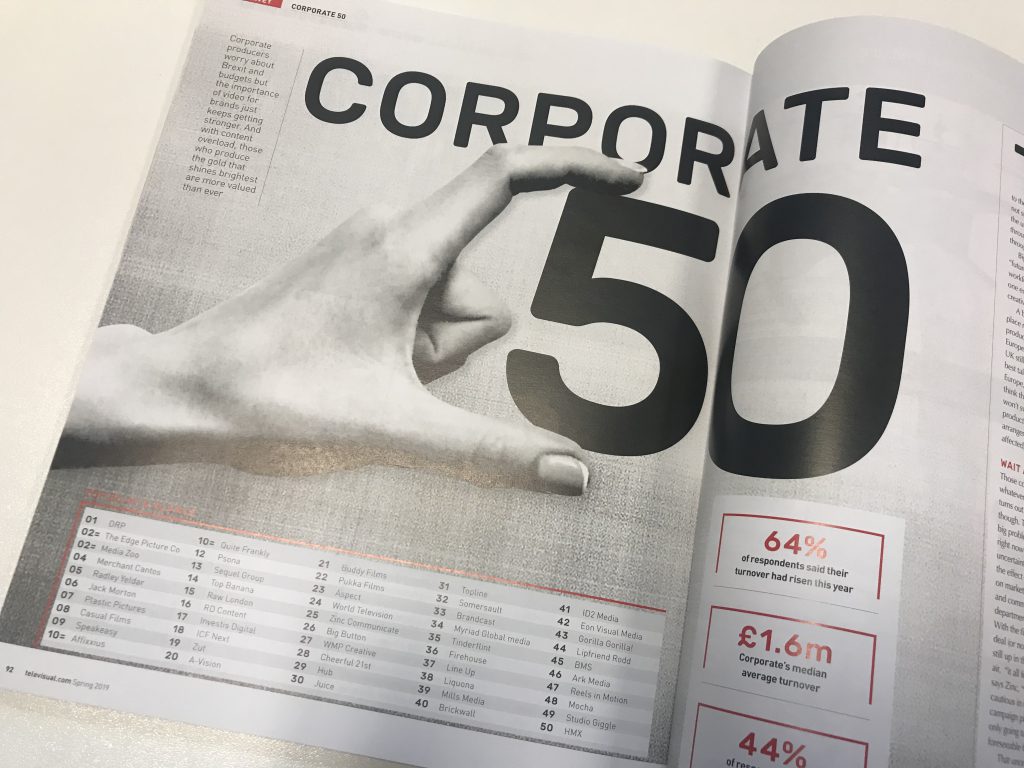 Charlotte Harris, Marketing Director at Raw London, said "This has been a pivotal year for us. We opened and closed 2018 with head-to-head competitions against some of the UK's biggest and most creative agencies, and won international awards for innovative and impactful work. It's great to hold on to the 15th spot and particularly rewarding to be rated so highly by our peers."
The survey also gives companies the opportunity to comment on creative trends, challenges and opportunities in the production industry. Many agencies discussed concerns around Brexit and the effect of the uncertainty on clients' marketing and comms departments. However, many agencies agree that there is a continued rise in demand for video among brands.
In fact, as Ark Media explains: "Our clients are allocating more of their spend to video as a result of the return gained and the potential to recycle the content for other purposes." This often results in more deliverables beyond video for each project, as Raw London adds; "More and more clients are coming to us with briefs for integrated campaigns, rather than just video content. Increasingly, clients are asking for our creative concepts to include a strong visual hook which can be used to create additional content. We've become content partners rather than producers."
Thank you to Televisual and congratulations to all those who placed in this year's list. A big thanks also to all of our clients who have trusted us with their brands, strategies and content to allow us to push the boundaries of what content can achieve. To see the full list, subscribe to the Televisual magazine or order the Spring Issue on their website.