Raw London have been awarded the top prize at the Pride Brand Makeover 2018.
The competition, which launched from the Google Beach at Cannes in June, is run by PrideAM and supported by Gay Times, YouTube and Creativebrief. The idea is to challenge brands and agencies from multiple disciplines to re-imagine their campaigns especially for an LGBT + audience.
10 entries received a special mention, of which 5 made the shortlist, with Raw London announced as the winner at Google Town Halls on Monday 26 November 2018.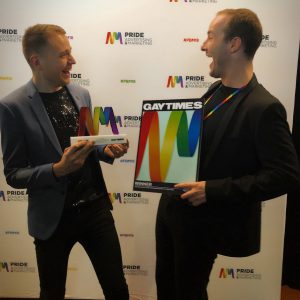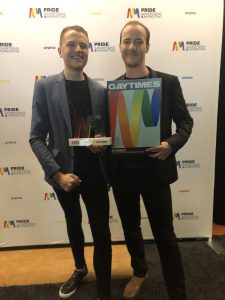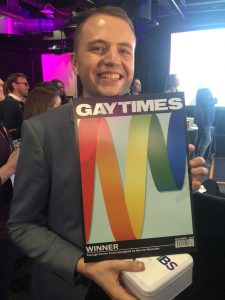 The shortlisted entries were adam&eveDDB for Lloyds Bank, Leo Burnett for McDonalds, Engine for PaddyPower, McCann London for Peter Tatchell Foundation and CP+B for PayPal. Each will share £325,000 of ad inventory from YouTube.
Stephen Woodfood, CEO of Advertising Association, said that after 3 rounds of voting, 7 of 8 judges voted for Raw London because of the "very clever re-imagining of one brand's content for another – with a subject matter that was very sensitively handled and beautifully done".
https://twitter.com/creativebrief/status/1067152873505591297
The winning idea
Our winning idea re-imagined a film we produced earlier this year for Teenage Cancer Trust; Gamer Girl: Ellie's Story. This unique beneficiary story visualised a teenager's struggle with cancer as a journey through a video game.
Ellie's voiceover included parallels to the feelings many LGBT+ youth have when struggling with their sexuality and/or gender identity. According to Stonewall, 45% of LGBT+ people are bullied at school for being LGBT+. This also includes 64% of trans pupils. This can cause extreme isolation for many LGBT+ youth.
So, we decided to re-imagine this concept for Mermaids UK, a small charity which offers support for gender diverse and transgender children and young people. Our makeover visualised bullies, cyber bullies, unsupportive family members and internal struggles as adversaries within the video game, in the same way that cancer and other challenges are represented in the original video.
Amber Parsons, Creative Content Director and Tom Fuller, Art Director at Raw London, produced the original film for Teenage Cancer Trust earlier this year. James Page, Producer at Raw London, then worked with Thomas Paul Martin, Film Director at Raw London, and the rest of the team to re-purpose the idea. Watch the team talk about the project in the video below.
James adds; "In a video game, you create your avatar – you can be who you want to be. With this in mind, we wanted to re-imagine the original concept as a trans story. Trans individuals are underrepresented in everything, and there has been so much negative and vile press this year facing this community. These stories are very much in need of being told in positive and authentic ways, which is what we wanted to do with our entry. To solely focus on this subject manner, we not only gave the concept a makeover, but we also translated the idea for another charity, Mermaids UK. Mermaids UK do fantastic work with trans youth and their families, so this win is also an amazing opportunity to share the incredible work they do."
The judges
A host of well-known names from the world of advertising and marketing sat on the judging panel including; Stephen Woodford, CEO of Advertising Association, Harjot Singh, Chief Strategy Officer for McCann Worldgroup EMEA, and James Bates, Marketing Planning and Strategy guru for John Lewis.
The judges looked for brave, bold, and challenging work. They selected the campaigns that make the LGBT+ community proud and show everyone that diversity and inclusion creates a better world. They wanted campaigns that reflect positively on the brand carrying the message, in a way that encourages other brand owners to include LGBT+ content in their campaigns.
https://twitter.com/creativebrief/status/1067152873505591297
James Bates, Marketing Planning & Strategy for John Lewis, said;  "For Pride Brand Makeover 2018, I'll be really interested to see how brands and agencies are picking up on issues and insights directly and indirectly related to the LGBT+ community. I suspect that for lots of people, the world feels like a complicated place at the moment. There are communities within LGBT+ that feel this more than most – and brands are in a great place to either address this directly, or at least acknowledge it for their customers and the public. Whatever the idea, it should go beyond stereotypes and feel authentic to the people you're representing."
More about Pride Brand Makeover 2018
PrideAM's annual Brand Makeover competition – now in its second year – enables brands and their creative partners to explore the area of LGBT+ friendly advertising with confidence while helping create positive role models. The winners receive £100,000 of inventory from Gay Times while all five finalists share £325,000 of ad inventory from YouTube.
A huge thank you to Teenage Cancer Trust for allowing us to re-imagine your film for Mermaids UK and congratulations to everyone who was shortlisted. The full list of results is below:
Raw London for Teenage Cancer Trust and Mermaids UK (Winner)
adam&eveDDB for Lloyds Bank (Shortlisted)
Leo Burnett for McDonalds (Shortlisted)
Engine for PaddyPower (Shortlisted)
CP+B for PayPal (Shortlisted)
Heist for RAPP
GREY for The Wayback
Chime Specialist Group for Cisco and City Verve
Ogilvy for Boots
McCann for Peter Tatchell Foundation
You can read more about the Pride Brand Makeover on their website, follow @PrideAM on Twitter or check out all the finalists in the video below.