At IFC Holland 2018, Fiona Koch, Account Planner & Director at Raw London, was lucky enough to see a session run by Lori Davison, Head of Brand at SickKids Foundation, and Daniel Shearer, Team Lead for SickKids Campaign at Cossette Agency. The session was called 'SickKids VS Apathy: a deep dive on the success of a groundbreaking healthcare campaign, what worked and what didn't'.
The SickKids VS brand platform has garnered international awards for groundbreaking creative. Lori and Daniel's session dug deep into the results of the campaign – what worked well, what didn't, and some of the key learnings taken away by the strategic leadership on both the client and agency side of the project.
Fiona was so inspired by this session that she took the opportunity to share what she had learned with the audience at Raw London's event, Your Best Content Campaign, on Thursday 15 November 2018. Below is an overview of her presentation; My favourite campaign story of 2018 (and what we can all learn from it).
About SickKids and Cossette agency
Officially known as The Hospital for Sick Children, the hospital actually rebranded as SickKids a few years ago, after realising that the colloquial / local nickname was how people really identified them. Founded in 1875 and based in Toronto, Canada, the hospital is in the top 3% of all children's hospital's worldwide.
Cossette is an integrated creative agency founded in 1975 and based in Quebec, Canada with 650 full-time staff. Their clients include big household names including McDonald's, General Motors, Proctor & Gamble, and Nike.
How SickKids developed a groundbreaking healthcare campaign
This is a really nice story of how a bold, brave approach to branding and campaigning can make a real difference. Investing in the brand gave SickKids an important return on investment, and it opened doors for fundraising. While it's important to recognise that both SickKids and Cossette are large organisations with big budgets and resources for the campaign, there are still some fundamental key pieces of insight and inspiration that we can all learn from and aspire to, no matter our size.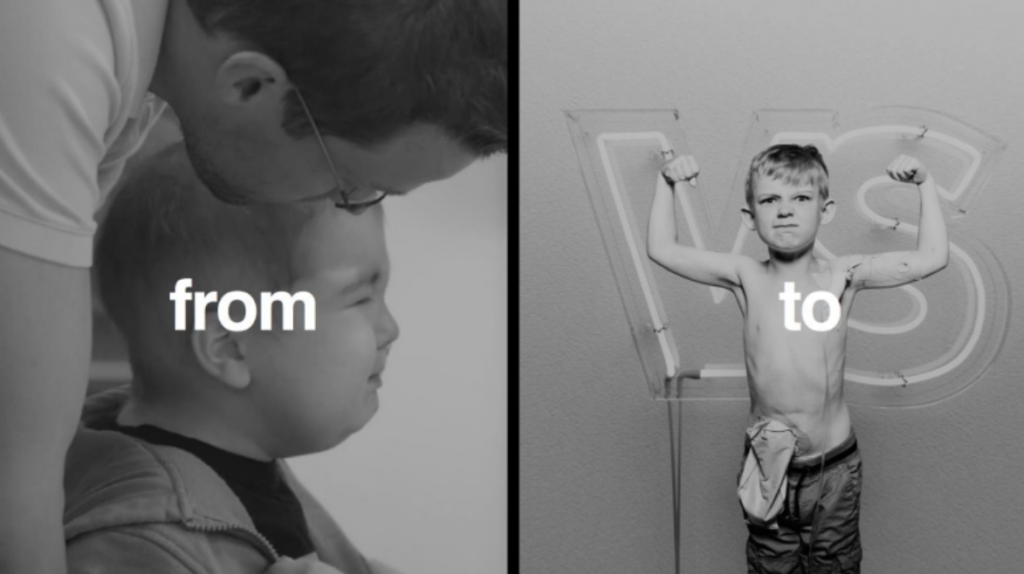 2014: 
Just Another Day
This is their 2014 fundraising video, Just Another Day. It's a beautiful, emotional film that received record-level donations and won lots of awards across multiple international schemes. 
So why change?
SickKids desperately needs a new hospital building and had a new fundraising goal: $1.3 billion by 2020. This is largest in Canadian healthcare history.
In order to achieve this unprecedented feat, Lori Davison realised, they "weren't going to get there by talking to the same loyal donor and telling her what she already knows".
For Fiona, this was a bold and key insight. As is true for many charities, SickKids' main funder persona was the 45-55 year old female with disposable income. But SickKids recognised that they needed to reach out to new audiences if they were in with a chance of reaching their goal.
The ambition:  JOLT into ACTION new potential donors who are sitting on the sidelines.
SickKids needed to attract new audiences to achieve the fundraising goal. Specifically, they needed to be younger and more male. In order to achieve this, they put a "ton of focus on the engagement piece before they got to the fundraising".
The driving insight: 
SickKids is a high performing organisation that is
winning
.
An unusual tactic for a charity, SickKids decided to lean in to their success and focus on the fact that they are already winning. This required a significant perception change. What was a typical charity brand became a high functioning performance brand. What was "keeping up" turned into "winning". "Help us" became "Join us".
An orchestrated ecosystem: From campaign thinking to brand experience.
SickKids refer to their campaign as an Orchestrated Ecosystem. This means that while it was video-led, they needed more than just one hero film to create a total brand experience. This became an orchestrated effort, where every element doesn't necessarily say or ask the same thing in the same way.
The giving mindset: creating a sense of urgency
In order to create a sense of urgency in the ask to potential supporters, SickKids implemented a fundamental shift in tone. What was general before became incredibly specific. The abstract asks became more tangible and "someday" became right "right NOW".
2016: SickKids
VS 
The greatest 
challenges in child health
SickKids reflected that their 2014 campaign, Better Tomorrows, had "too much mass appeal" and to create an integrated brand experience they needed to "make it more personal with a side of unexpected". They decided on a bold hero approach with a primary goal to simply build the brand in the first year. 
The result was this astounding film which made big waves in the healthcare sector, particularly among children's hospitals. It's strong, surprising, empowering and entertaining while also incredibly emotionally impactful. It's not at all what you'd expect from a children's hospital – and that was the point.
The film launched a huge variety of activity to create to mass saturation around Toronto. This included a huge PR campaign, big celebrity influencers, hundreds of events, creative use of out-of-home advertising on public transport, on buildings and in the hospital itself. The campaign was hyper-localised to towns and communities in the Toronto metropolitan area. Local communities even donated spaces for immense murals on city walls and spaces, each one personalised to the location. 
The ask was broken down to specific goals to create that sense of urgency for donors, and the theme was carried through to thank you emails and online correspondence.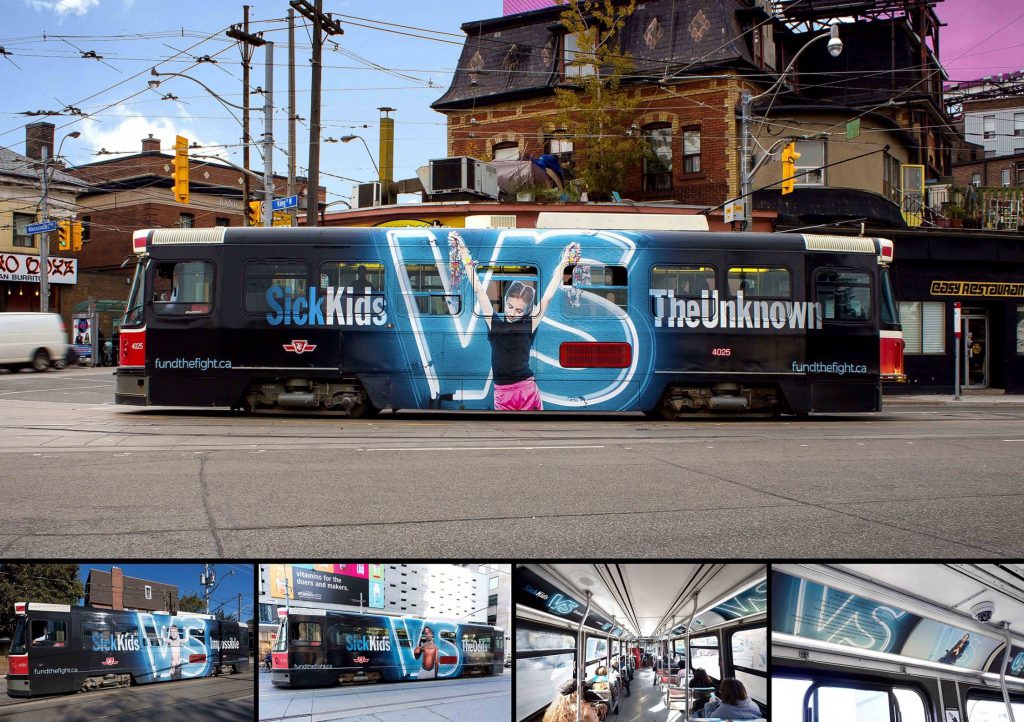 Did it work?
In a nutshell, yes. SickKids raised $145m in the first year. $70m of this came from individual giving, $40m from major donors and $35m from corporate partnerships. The percentage of individual giving was much higher than previous campaigns, so was deemed a significant achievement.
Other measures included brand health, donor loyalty and propensity to give which all saw an uplift. Surveys of new donor groups showed a 1 in 5 brand recall among charities – a big uplift on previous surveys and since 2010, a staggering 1 in 10 people in Toronto had donated by the end of Year 1. Most significantly, 25% of new donors were 18-34 year olds with less than $100,000 household income. This was a big win for SickKids, and it was encouraging to see that the campaign had appealed to new, younger audiences.
Can a charity be too successful at fundraising?
Having started at a loud, anthemic level to get people's attention, it became deeply personal for supporters. But SickKids then had an unexpected challenge in convincing audiences that they needed continued support. It wasn't until Year 2 of the campaign that SickKids revealed they needed a new building, and the government publicly pledged a significant contribution. This meant the charity started to see donors cancelling their monthly donations – so the next challenge was to keep up momentum.
2018: Join Your Crew
In September 2018, SickKids launched the new donor-focused video, Join Your Crew (see below). Similar in tone, the focus has shifted from the children as heroes, to the donors as heroes. 
3 key takeaways
1. Think of your brand as a platform and an experience, not just a campaign.
2. Get personal. Create connection by putting your audience at the centre of the success story.
3. Being brave and bold can pay off in big ways.
This is a summary of a lightning talk from Raw London's event Your Best Content Campaign, Thursday 15 November 2018 at Bertha Dochouse, Curzon Bloomsbury.
These free events are invite-only so sign up to our mailing list for tickets to the next one.