Lucy Taylor is the Editorial Manager at VSO. Her job is to move people down the marketing funnel from awareness to engagement, through to supporter and retention. She does this by telling stories in multiple forms –  blog posts, fundraising appeals, video, print and email. Her session, Authentic and effective: Telling stories from the field that resonate gave 3 practical tips for creating better performing content.
As a sector we are spoiled for choice when it comes to stories – but with only so much time and limited resources it's impossible to tell all of them. How do you prioritise?
Lucy suggests it's more effective to focus on fewer pieces of better quality content, rather than trying to do everything. Her advice is to focus on the stories that you can be confident will land with your audience and achieve a specific result. To help you, she gave these 3 takeaways.
1. Focus on the right stories
This Venn diagram is used to explain how to identify stories worth focusing on. On the left, 'Your message' includes everything you want to talk about as a charity, while 'What your audience cares about' sits just to the right. The third, and what Lucy suggests is the most important ingredient, is 'Story Magic'.
Story Magic refers to emotion AKA "the feels". These are the key features that make the story moving, surprising, funny, inspiring, sad or outrageous.
When the three intersect, you need to go for it.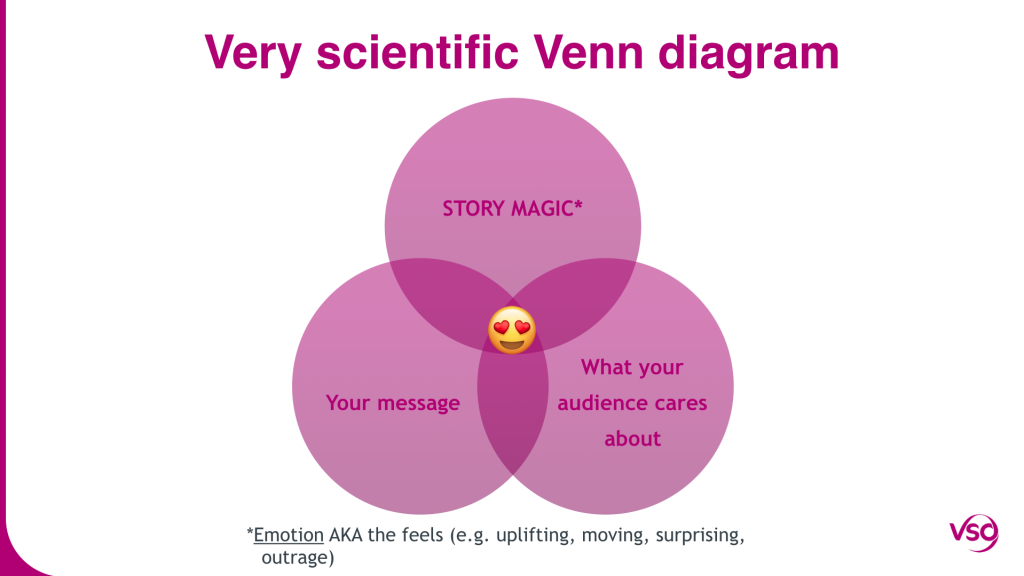 2. The right treatments
It might sound obvious, but when you go about collecting stories your result is immeasurably better when you plan with the outcomes in mind. Build a mini campaign in your head around the story and think about how you can tell it in lots of different ways. Here Lucy gave examples from recent VSO projects, including their very successful emergency campaign to give Rohingya children vital education.
3. Maximise the value
Congratulations, you've created some fantastic content! You've managed to find the right story and decided where you want to put it – but how can you get the most value out from it?
Lucy acknowledges that the pressure is always on to jump onto the next thing, but advises you to make sure you give yourself time to maximise the value of each one. Can you enter your content in competitions or awards? Have you explored every PR-able angle? Have you asked for feedback? You could also try asking the audience what they want to hear next. Following up on suggestions has led VSO to doing more community stories, for example, which have gained great engagement.
See and download Lucy's slides above or email fiona@raw.london for a copy. The films and other content shown were previews of an upcoming campaign, so can't be widely shared just yet. VSO will be launching them later this year, so follow @VSO to stay up to date!
**This is a summary of a lightning talk from Raw London's event Creative Storytelling in the Third Sector, Thursday 9 August 2018 at Bertha Dochouse, Curzon Bloomsbury. You can read more about the event here or see summaries and slides from other sessions below.**
These free events are invite-only so sign up to our mailing list for tickets to the next one.