Raw London held their 7th charity event last week at the illustrious Bertha Dochouse in Curzon Cinema, Bloomsbury. The sold out event was the biggest one yet and saw 50 third sector content producers, marketers and social media managers gather for an afternoon of insight, sharing and collaboration. The theme this time was Content Strategy in the Third Sector, with speakers from Cancer Research UK, Marie Curie, Scope and International Rescue Committee (IRC) taking the spotlight.
There were some interesting themes spanning storytelling, process, impact, structure and brand. Here's a quick run-down of each session – email ryan@raw.london if you'd like a copy of the presentations.
Chris Flood, Content Strategy Lead at Cancer Research UK lead a mini-workshop on his process for 'Hub & Spoke' in a session titled Devolving content strategy. Key takeaway? For me it was this: "A process is not set up to deliver a thing, but to solve a problem."
Charles Williams, Head of Content at Marie Curie talked #normcore in a session that focused on the 'joy of unsexy content'. The premise was simple: forget the flashy brand campaigns, sometimes it's the small stuff that leads to big successes. In the example below, Charles compared 'scrambling on social media for 3 second views', to the really impactful content that important, specific people really need.
Phil Marsh, Content Manager at Scope focused on storytelling in his session, specifically around the importance of developing relationships with your beneficiaries. He gave some useful advice for how best to manage, and ultimately grow, relationships with your beneficiaries (storytellers), and gave insight into how Scope have created a more story-centred strategy. He shared the example of Christie, below, who has become one of Scope's most significant storytellers through respectful and mutually beneficial engagement.
Jamie Wright, Digital Content & Partnerships Officer also joined us from IRC, the world's largest non-profit supporting refugees. Jamie talked 'Purpose, people and persistence' in a beautifully presented session focused on the three things they've learned while building a content strategy:
Don't get bored of your message: people deserve to know what you're fighting for so don't be afraid to repeat your message – you don't need to keep changing it.
It's not just about you: your content is not about you as an organisation, but about the values that you share with your audience. Let your audience see themselves in your content and show, don't tell them what you care about.
Tell the story of millions of us: A "story of us" is what the community organiser Marshall Ganz says illustrates the "shared purpose, goals and vision of your community". It's a story that invites others to be a part of it.
Inspired by the laws of nature, our very own Ryan Wilkins also gave a quick run down of the content ecosystem, sharing a useful cheat sheet for identifying how video can play a very different (but equally important) role at each stage of your audience journey. See the below screen grab or download the pdf here: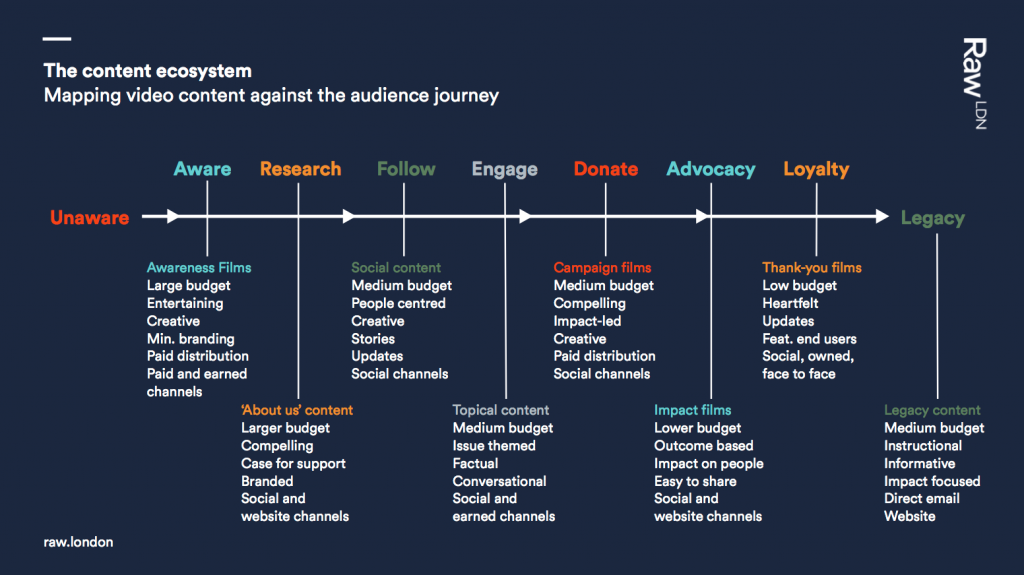 This is your third sector content event – here's how to get involved
We have worked hard over the past 2 years to grow this event from a small and informal place to share ideas, to a valuable source of sharing, knowledge and networking for people working in third sector content.
We always appreciate your feedback and are proud to say that this event received:
94% rated the range and quality of speakers as good or great.
100% rated the venue good or great
97% rated the range and relevance of topics covered as good or great
100% of attendees would recommend the event to their colleagues.
You also gave us loads of suggestions to improve, so here are some of the ideas you shared with us for future events:
New name (and a hashtag!) – ideas welcome!
More diversity and range of speakers and topics
More opportunity for discussion / Q&A
Show more content with opportunity to deep-dive into creative process
Popcorn (… ok that's mine but I'm pretty sure on to a winner!)
Once again thank you to our speakers for giving up their time to share their insight and experience, and to everyone who came along. If you feel inspired and would like to speak at future events, please email ryan@raw.london.
On to the next one…
The next event will take place in July and we're already looking for our next third sector content theme. Head over to Twitter to take our poll or suggest your own – we'll keep it open until the beginning of June.