I have been working from home for over thirty days. That's thirty days to perfect the best angle to use for Zoom calls (- that angle is high… very high, and boasts natural light to flood out my face and a poor wifi connection to hide my bedhead.), thirty days to perfect my new commute (- I roll out of bed and take the hallway directly to the shower at 09:15, meaning I'll never be late for my 09:30 start with a cup of tea (Yorkshire, obviously) in hand.), thirty days to perfect my working from home playlist (- it's the same as my normal playlist, only I sing along to everything now to my flatmate's dismay). But it has also been thirty days to adapt to my new working environment, and for the team at Raw London to remain as creative as possible in our campaign and content ideation.
We hope that our new approach to creativity can help you navigate your team's new office(s) into creative goldmines. Basically, it's been thirty days – the dust has settled – let's keep creativity alive in the communications sector and beyond. Let's make some innovative content. In fact, here's some ideas to give you a head start.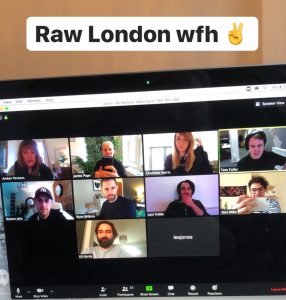 Process (sounds super boring, but shhhh it isn't)
Keeping as close to the old normal in our new normal is really important, it keeps our minds more attentive to our work if we have something familiar to guide us. As much as they may seem to contradict each other, creativity flourishes from having a structure to follow. It often needs to follow a process, and blooms when adequate research, discussions and (multiple) drawing board sessions have taken place. Although it's really cool to state that creativity is born from chaos, we'd argue that it needs structure in order to allow creative opportunities to arise. Since working from home, our normal structures and processes were taken away from us quicker than tinned goods get taken from the supermarket. However, we have quickly adapted to the 'new normal' and have reinstated and refreshed our processes to allow our creativity to be as active as ever.
Our ideation still includes triages, brainstorms, individual research and quick calls to bounce ideas between each other. We still rehearse our pitches, albeit virtually, and even have the benefit of blaming a dodgy connection if we slip up a line when presenting! And even though we can't film currently, our other projects (including animations, editing together archive footage and creating content strategies) still follow the exact same production steps as they would have done over thirty days ago. By following the processes and structure we put in place before the pandemic (huge congrats to me for writing 400 words before mentioning that word), we have been able to continue streamlining our creative ideas to be pitch ready. It's like nothing has changed.
Technology (It's great – we're using video calling just as much as Madonna uses autotune*)
Technology to allow remote working is hardly new, it's just never been used on such a large scale as this before and we've all been thrown into the deep end trying to understand conference call limits and having to remember to click the "make it a video call" button when setting up events. But we're not our grandparents (sorry, Grandad), we've picked it all up pretty quickly. Zoom video calling, Whatsapp and Slack have been our (tec)holy trinity here at Raw, and have allowed our process and creativity to continue with the least amount of disruption. 
I'm sure your timeline is filled with team meeting screenshots on social media, and half of them are probably from us.  We've chosen Zoom as our video calling platform because it's really simple to use, and anyone with a conference call link can join the chat (even if they haven't got the app downloaded on their device). It allows multiple people to join a call, and allows for screen sharing and annotating – which has come in very handy for both brainstorming and pitching to clients remotely. Despite the odd technical glitch, we've found communicating with our clients really smooth through Zoom (we just need to triple check that our room is tidy in the background).
We're also using technology to approach production differently, and are constantly thinking about ways we can create new content without having to have a physical presence. Digital filming options, including briefing contributors to film themselves and send us the footage, is becoming an increasingly popular approach to content creation. Also, through utilising live video on various social media platforms, we're able to connect with audiences directly and manage the contributors and viewer participation remotely. 
*I actually like Madonna a lot, and regret making this joke.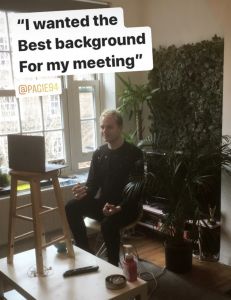 Being stuck indoors (sitting next to a window is as good as it gets)
It's coming into Summer, we all miss the outdoors and we all find some of our best ideas coming to us when we're out for a walk or during our commute to work (unless you're on the rush hour Central Line, then all you can think about is escape and fresh air). The Raw London team members have each  made sure that their office space is as suitable for working as possible – not only does it help us be more productive and creative, but it also puts our minds into work mode when we sit down in our new office space.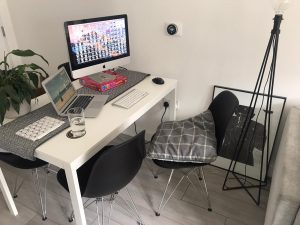 Looking after you & your creativity
And finally, something we're prioritising is the importance of looking after yourself. Without keeping mentally active and healthy, creativity isn't going to happen. Utilising your time outside to properly switch off from work is key, especially when the work/home boundaries are now very much blended into one. 
Being able to reach out to other members of your team if you're struggling with the global situation, or even if you just fancy a virtual cup of tea – these are all important things to do to give our minds a rest and to give them more opportunities to be creative. 
We've also kept our team socials very much alive – and the added bonus of remote socials is that you can literally crawl to your bed if you've had one too many drinks on the video call.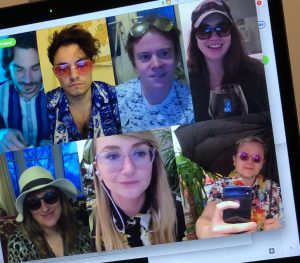 Creativity is definitely NOT under lockdown – it's just moved home, and now the dust has settled, we're all in the position to create new ideas and launch exciting new campaigns.
Talk to us about an idea you may have – we'd love to hear from you!