Ed Hardy, Creative Lead at Raw London recently spoke at CharityComms' Quick-fire Creative Inspiration event about his experience working on FareShare's first ever nationwide volunteer recruitment campaign. This is a summary of his session.
While this is a look at how a unique experience changed the direction of FareShare's volunteer campaign, it may be more accurately titled: The most terrifying 4 hours of my life.
For starters let's introduce you to FareShare and tell you a little bit about who they are and how we came to work with them on their first national campaign.
FareShare are a charity who believe that no good food should go to waste, a sentiment that they unequivocally share with my mother. They work with suppliers and food producers to redistribute excess food to local charities across the UK.
And how did we get to work with them?
In 2018, FareShare became the partner charity for the Creative Shootout, a creative competition that sets out to help one charity every year create a campaign that's going to solve their most pressing need. 1XL, a media agency, donate £250,000 of online media spend to launch the campaign and 9 finalist agencies pitch their ideas against each other to try to win the opportunity to work on the project.
So far this is like every pitch process you've ever heard of.
In reality it's so so much worse.
On the day of Creative Shootout you set eyes on the brief for the first time at 12pm.
You then have just 4 hours to come up with an idea and pull your pitch together before you have to present on stage in front of 10 judges and an audience of 300 people at BAFTA.
It is truly terrifying.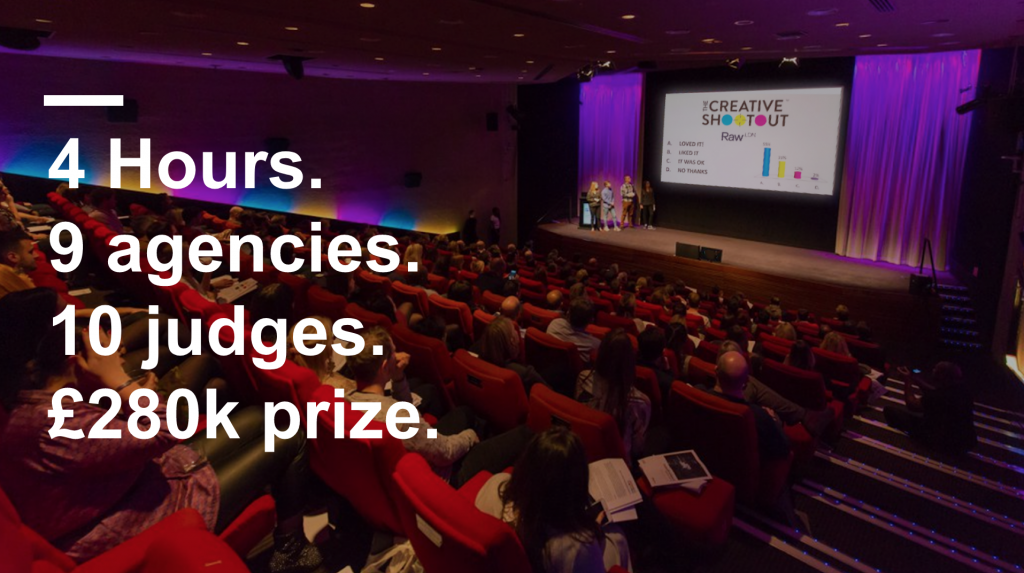 Having said that I urge everyone here who is involved in pitches or presenting of any kind to at least once, hold themselves to these similar constraints. OK, I think you can skip the audience of 300, 10 expert judges and brutal live voting, but a scenario that creates that surge of adrenalin by imposing massive time constraints can be a fantastic boon to your creativity.
And here's the brief we were given at 12pm that day: Recruit more volunteers to help across FareShare's nationwide network.
To be perfectly honest this was not the brief we'd been expecting. As an agency in the build up to the competition we'd tried to anticipate what might be in store for us from this little known charity. Our first thoughts were awareness raising amongst the public, possibly something to wake up the big supermarket brands to encourage B2B partnerships, or even a fundraising appeal. Driving people to volunteer for 8hr shifts in Fareshare's warehouses in a variety of different roles was very far from our minds.
I'm going to fast forward quickly and show you the creative that we came up with on the day.
Any shape, any size. Whether you're young or old, smooth or wrinkly, bald or hairy. We'll take you.
We suggested using overlooked pieces of food and putting them next to their human counterparts. With Fareshare's overarching message: that this food is great and so are you. Each piece of creative aimed to highlight issues around food poverty and waste in the UK and place FareShare's volunteers front and centre.
FareShare takes food that's been overlooked and puts it to good use. Now we need help to get it to those who need it most. You have the skills we need. And if you don't, we'll give them to you. Any Shape. Any Size. Sign up now.
Happily we won, and were faced with arguably the bigger challenge. Turning an idea we came up with in 4 hours into a viable, integrated national campaign.
In essence, Creative Shootout is a highly distilled example of the entire creative process.
Get your priorities right
First and foremost it forces you to prioritise. Whenever we get a brief from clients the first thing we do is interrogate it. We pick out the salient points, the key objectives and discuss what's going to resonate best with the target demographics. This might take a long meeting with the team and almost certainly a call with the client to discuss and confirm our findings, maybe with a day in between for… percolation.
At Creative Shootout we interrogated the brief in 6 minutes so identifying the correct priorities was key.
Be ruthless
Which brings us onto (and if you do ever find yourself in this situation this is the best advice I can give you) be ruthless. Don't be afraid to admit a mistake because you've spent a long time making it. We scrapped all of our ideas with an hour to go because we knew they just weren't right.
Anyone can have a great idea
Listen to everyone, great ideas come from everywhere. The best way to encourage this is to employ the 'Yes, and….' technique – a key rule in improvised comedy. Try to build on comments and ideas, rather than shut them down too soon, and they will naturally evolve by themselves.
Do your research before you brainstorm
As with all good briefs we were given a stack of audience and market research to inform our insights. These went entirely ignored on the day. We just didn't have the time and we were confident that we'd already done our own research ahead of time. So in your day to day brainstorms everyone should be arriving prepped, having read up on the subject at hand or at least having fully read and interrogated the brief. For an extra leg up, try giving each person an area of research and present your findings to each other the day before your brainstorm. This gives you all an opportunity to discuss the topic, get on the same page and might even spark some ideas.
Find the fundamental human truth
The best creative arrives at a fundamental human truth that resonates with the largest number of people possible. Something that is so innate it's unquestionable.
We deal in commonalities, as creatives we join dots other people can't see. And although research and audience data give us more dots to connect it is always good to remember that no matter who you are talking to there's more that unites us than divides us. Tribalism crosses demographic boundaries and is something we can only understand when we deep dive into a subject, an issue, a brand and really get under it's skin. We saw that we could connect a variety of different demographics, students, the unemployed, Mums and Dads getting back into work and the elderly who felt they were undervalued by society. And so ur driving insight was that we could make that connection between food and people that were undervalued in the UK.
From pitch to production
One thing I'm sure we're all aware of is that a lot can change between pitch to production. More stakeholders get involved and more opinions and agendas need to be taken into consideration. The things I find myself crying out for time and time again in the pub after work on a Friday night are braver clients, bolder briefs, a fearless approach to advertising.
On that note, here's the creative that made it out into the real world.
We were able to work in partnership with FareShare throughout the whole process. A bold brief required a bold response and FareShare were brave enough to see our original concept through to delivery. Above all else this was based on a fantastic mutual trust between client and agency, forged in 4 hours and 10 minutes on stage at BAFTA where we showed them that we really understood what each of us were trying to achieve.